A Unique Challenge in Kettlebell Lifting
Speak to the designer! For advice call: 0115 920 2810
- John Brookfield (JB) Kettlebells are hollow fillable kettlebells made from steel.
- The JB Kettlebell is unique as it can be used empty or filled with shot.
- The only kettlebell that has a dynamic feel to it: the shot moves inside the bell giving constant moving changing tension.
- The John Brookfield Kettlebell has a removeable steel plug in the bottom for filling with shot.
Training with an empty JB Kettlebell is just like training with a solid kettlebell, but when you fill it with shot it becomes a completely different animal. JB Kettlebells are one of the best kettlebells for strength and endurance training as the thicker handle challenges you more, especially your grip.
Buying Guide for Shot:
Steel Shot comes in 4kg steel tins, so the minimum order is 4kg. The John Brookfield Kettlebell has a removeable steel plug in the bottom for filling with shot.
- A 16kg JB Kettlebell can be filled up to 32kg with steel shot (16kg kettlebell + 16kg steel shot)
JB Kettlebells Are Hollow Steel With A Black Finish. You Fill Them With Steel Shot to Your Desired Weight
If you have only used solid kettlebells, you haven't experienced anything like training with a hollow filled kettlebell due to the dynamic nature of the JB Kettlebell & the constant movement of the weight inside creating kinetic energy and shock loads.
Putting it simply, training with a JB Kettlebell is like being a passenger travelling in a car without a seatbelt. If the car hits an object and comes to a sudden halt, the passenger continues to move forward. Inside the JB Kettlebell, the filler moves with the kettlebell, but when the kettlebell stops, the filler continues to move - this is Constant Moving Changing Tension.
Hollow fillable kettlebells were used by the legendary strongmen of old - World's Strongest Man Eugene Sandow (pictured below, right), and the great Arthur Saxon whose lift "The Two Hands Anyhow" of 448lbs has never been equalled (pictured below, left and middle).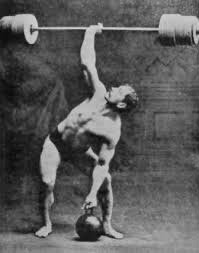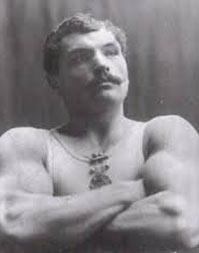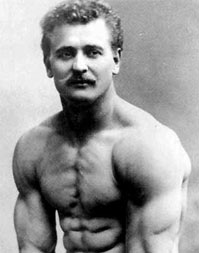 Why Train The John Brookfield Way With JB Kettlebells?
Answer: If you are going to follow a strength training programme, it makes sense to follow one of the strongest men in the world. Follow the man who World's Strongest Man, Phil Pfister calls "a hero and inspiration" and who Jouka Ahola (Twice World's Strongest Man) calls "the real world's strongest man".
Some of John Brookfield's Achievements:
- 1,200 kettlebell snatches in one hour with a 24kg kettlebell
- 302 kettlebell snatches with a 24kg kettlebell in the ten minute snatch test
- 198 kettlebell snatches with a 32kg kettlebell in ten minutes
- Striking a 23kg hammer into a tyre for one hour nonstop (striking pace was 27 to 30 times per minute)
- World Record Holder for bending 520 60-penny nails in 1 hour 42 minutes
- World Record Holder for bending a 20 foot half-inch dia (12mm) steel bar to fit into a small suitcase in 29 seconds
Watch John Brookfield doing The Tower of Terror with his JB Kettlebell filled to 50kg (112lb).
---
Sam Dovey John Brookfield Kettlebell Testimonial
Professional Kettlebell & Olympic Weightlifting Coach
"Just when I thought kettlebells could not get any harder, I picked up a JB Hollow filled kettlebell. I have been using kettlebells, powerlifting and Olympic lifting for many years and always enjoy a new challenge so wanted to give them a try.
Straight away I noticed the Constant Moving Changing Tension in exercises such as Turkish get ups and even catching bells bottoms up from the clean. You have to fight to decelerate the contents of the kettlebell as well as the bell itself.
I have owned or used virtually every make of kettlebell and this is the best kettlebell to date. The handles are the thickest I have seen and the finish is great.
You obviously have a great cost saving because one JB Kettlebell can do the job of nine, but more importantly from a progress perspective you can bridge the gap by increasing the weight a little at a time, meaning you will always progress and not get stuck between 24-32kg or 40-48kg.
I am very impressed by the John Brookfield Kettlebells and now understand the value of hollow fillable kettlebells and realise why the strongmen of old achieved such feats of strength!"
---
Jeff Martone John Brookfield Kettlebell Testimonial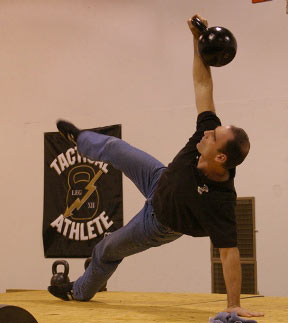 Jeff Martone The Crossfit Kettlebell Trainer performing the "Gladiator & Turkish Get Up"
"JB kettlebells are a quality product. The innovative yet simple design reflects the designer, John Brookfield - rugged and versatile; The JB kettlebell will grow with you as you get stronger. I have the mammoth, thick handled 16 KG JB kettlebell (filled with an additional 54 pounds lead shot). The subtle shifting internal weight will add a unique training benefit to your training sessions."
---
Steve Cotter John Brookfield Kettlebell Testimonial
Steve Cotter - World-renowned martial artist and strength & conditioning specialist.
Two times US National Full Kontact Kuoshu (Kung Fu) Champion
"I play with every type of kettlebell I can get my hands on. I travel around the world teaching kettlebell seminars and also take part in numerous international kettlebell sport competition, so I have seen just about every design of kettlebell in existence. If someone suggests to me that a basic kettlebell could be improved upon, I am be skeptical. However, when I heard that John Brookfield had developed his own kettlebell I was intrigued, because I know that John is one of the pre-eminent authorities in the world when it comes to strength training and he is equally creative as he is a gifted strength athlete.
Having trained with the JB Kettlebell for a few weeks now, I can say that it does offer some unique properties and it is a valuable strength training and conditioning tool. For one thing, the thick handle is great for me, because my grip is typically the weak link in my own kettlebell practice. From even just a few weeks with doing long sets with the JB Kettlebell, my grip is becoming much stronger than when I use the standard-sized competition bells.
Another unique effect is what John calls CMCT which is Constant Moving Changing Tension. This has a unique conditioning effect for the tendons and joint, I believe, because of the additional pulling that takes place as the shot (or sand or gravel) moves around inside the bell. The ballistic shock that occurs because of the shifting and counter-action is very practical training for martial artists and all high-impact athletes."
Delivery
We will dispatch your order as soon as possible, but please allow a dispatch time of up to 5 working days for busy periods.
Orders up to 2kg are normally despatched by Royal Mail. Over 2kg by courier. The shipping cost is calculated in the basket before you enter any personal details.
Full T&Cs
Please read our full Terms & Conditions Here.
Returns
Customers have 14 days from receipt to change their mind and return goods in the original packaging. Once products have been used / worn, they cannot be returned.
Before returning goods, customers must notify us by email to info@kettlebells.co.uk and instructions will be given on how and where to send the goods back.
If products are received damaged, please sign for them as damaged with the courier. Please notify us in writing immediately by email at info@kettlebells.co.uk. Important: Photographic evidence is required of: The damaged item, the outer box/packaging, the internal packaging. Please do not discard packaging as it may be needed for a claim.
Customers are responsible for the return shipping cost unless they have been sent wrong or faulty goods.
We reserve the right to refuse a refund or to charge a suitable handling charge if items are returned in an unsaleable condition.
The cost of outgoing postage/shipping will not be refunded.
Full T&Cs
Please read our full Terms & Conditions Here.
WE THOUGHT YOU MIGHT LIKE THIS!