NEOPRENE KETTLEBELLS
Neoprene Kettlebells are made from solid cast iron with a protective neoprene coating. The Neoprene Kettlebells are very popular for the home user as the neoprene protective coating is floor friendly and also storage rack friendly.
You want the Kettlebell that is right for you, if you need more advice call us on 0115 920 2810 (+44 115 920 2810 from outside UK) or email: jim@kettlebells.co.uk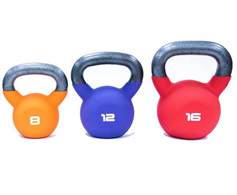 Jordan Neoprene Kettlebells

Weights available: 4kg to 40kg...
Save up to 24%

From

£11.88
Eleiko Kettlebell Wrist Wraps
Extra wide wrist wraps to protect the wrists and forearms when using kettlebells...